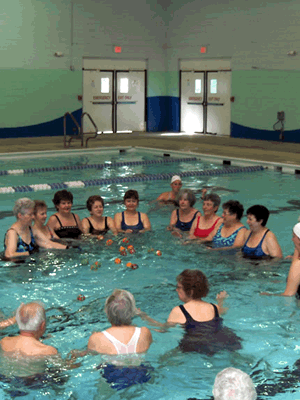 Water Aerobics is one of the best low impact resistance exercises that you can do. Anyone can experience the benefits of water aerobics even if you can't swim! People of all ages and fitness levels can participate in a water fitness program.
Join us at the Chatham County Aquatic Center

to "GET FIT and Get WET"!

Summer 2019 CCAC Water Aerobics Schedule
Arthritis Foundation Aquatic Program
This WARM WATER exercise program is approved by the Arthritis Foundation and is led by Arthritis Foundation certified instructors. This class concentrates on improving and maintaining flexibility, mobility, and range of motion. Classes are held in the WARM shallow water of the recreation pool (85-88 degree pool).
H2O Body Sculpt
This HIGH ENERGY shallow water class is great for every age and fitness level. Join Carol, Kim, Mannie or Susan for heart pumping cardio and muscular endurance moves. Buoyant and drag equipment adds resistance during power and strength moves.
Deep Water Aerobics
Prepare yourself for the ultimate "No Impact" workout. We will use selected flotation devices for suspension in deep water and create a challenging aerobic interval workout using adaptations jogging, cross country skiing, bicycling, and kicking. Expect powerful moves and full range of motion to improve your strength, cardiovascular fitness, and flexibility. Participants must be comfortable in deeper and cooler water (78-80 degrees).
Positive Changes
A total body and low impact fitness class for the over 55 years (young) enthusiast. This class incorporates low cardio, muscle toning, strengthening and balance work using noodles and other water resistance equipment. Cardio is addressed for a short period of time at a low intensity.
Shallow Water Aerobics
This shallow water workout includes calisthenics style movements with variations of upper and lower body resistance moves. You will march, jog, kick, and jump your way through the water to improve and maintain cardiovascular fitness, muscular endurance and flexibility. Each instructor uses his/her creativity to keep the pace moving and the activities interesting. As the participant, you determine your own intensity by deciding how hard to manipulate the water.
* All classes are 45 minutes