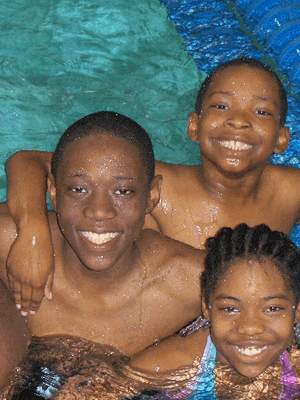 Parties & Special Events may be scheduled:
Friday — 5:00 PM - 7:00 PM
Saturday — 12:00 PM - 2:00 PM, 3:00 PM - 5:00 PM
Party space is reserved by completing an agreement and paying a non-refundable deposit/set-up fee.
Party set-up includes tables and chairs for up to 30 guests.
Payment and signed agreement must be received in order to secure the party date. Chatham County Aquatic Center cannot hold any date without payment and signed agreement.
Fees:
Non-refundable deposit/set-up fee (due at time of reservation) — $50.00
Daily admission (due the day of party) — $5.00 for adults, $3.00 for child (ages 3 - 12)
To schedule a party or event please call 912-652-6793 to make a reservation.
Parties will not be held on dates where the facility is rented for swim meets or any other major events.
Lanes are available for rent in either the lap swimming pool or recreation pool. Lanes are only rented to businesses, swim teams, military, school groups, scuba, kayak, etc.
Lanes are rented per hour per lane. Discounts apply during non-peak hours. In order to rent a lane a person must sign an agreement, provide proof of General Liability Commercial Insurance, and certification as either an instructor, coach, or trainer.
For more information contact the Aquatic Center at 912-652-6793.