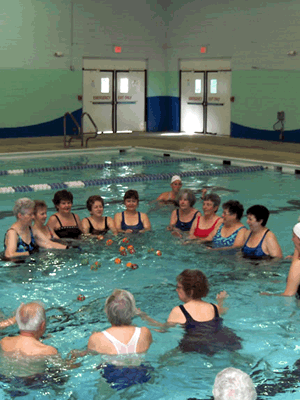 Water Aerobics classes are perfect for those looking to make a splash by adding a low-impact, high-energy aquatic exercise to their fitness routine. Exercising in water provides a supportive environment for your body. The buoyancy of the water reduces your weight on impact, resulting in much less strain on your muscles and joints. This makes aqua aerobics a good choice for all ages, swimmers and/or non-swimmers, and all fitness levels from the beginner to the elite athlete.
Please click here for water aerobics weekly schedule.
Arthritis Aquatic Program
Arthritis Aquatic Program is a warm water-base exercise program tailor-made for people with arthritis. This program incorporates gentle activities in a friendly and supportive atmosphere in which people make new friends and try new activities. The Arthritis Aquatic Program can decrease pain and improve functional ability, range of motion, muscle strength, and aerobic fitness.
H2O Body Sculpt
This high energy aqua workout targets all the major muscles using the water's resistance to challenge all levels. This class includes cardio and muscle conditioning using water equipment such as noodles and aqua buoys.
Positive Changes
This total body workout is designed to create a safe and effective workout for all fitness levels. Each class will include a warm up, cardiovascular moves, strength training, flexibility, core endurance, and balance. Stretching and a light cool down will end each session.
Shallow Water Aerobics
This class is a full-body workout with an emphasis on cardio conditioning, strength work, and flexibility. A dynamic warm up is followed by cardio training, which includes traveling in the pool for increased resistance, and easy choreography for fun and variety. Interval training is often included, along with drills for upper and lower body strength.
Deep Water Aerobics
Prepare yourself for the ultimate "No Impact" deep water workout. Flotation devices are used for suspension in deep water and create a challenging aerobic interval workout using adaptations jogging, cross country skiing, bicycling, and kicking. Expect powerful moves and full range of motion to improve your strength, cardiovascular fitness, and flexibility. Participants must be comfortable in deeper and cooler water.
All classes are 45 minutes. Instructors can modify all exercises to create a work out for your level. Please click on rates at top of the home page to check on fees for daily admission and membership options.