The Chatham County Aquatic Center provides a safe and welcoming environment to the entire swimming community that we serve daily. We create swimming opportunities and allot pool space to not only the future Olympians but to the non-swimmer who is learning to swim and for everyone in between.

Check out our HOURS tab for updates on space and lane availability! Circle Swimming in shared lap lanes is NECESSARY to accommodate everyone. If you are unable to share a lane, please plan your swim during a "SLOW" time so that you have a better chance of having your own lane. Please note that hours for Open Swim for Individuals and Families with Children are listed below:
12:00 PM – 3:45 PM & 6:30 PM - 8:00 PM Monday – Friday
12:00 PM – 6:00 PM Saturday
---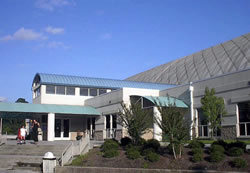 In 1996, the Chatham County Aquatic Center opened its doors to the citizens of Savannah Georgia housing a 50 meter lap pool and 25 yard recreational pool. This one of kind facility offers a wide array of aquatic programs to include lap swimming, water fitness classes, swim lessons, birthday party rentals, recreational swimming and competitive swim clubs. The 78-80 degree lap pool with a depth of 7-9 ft. is perfect for lap swimming and rigorous exercise. The 87-89 degree recreational pool has a depth of 2-5 ft. and offers an ideal environment for swim lessons, water aerobics and free swim for those who prefer warmer water.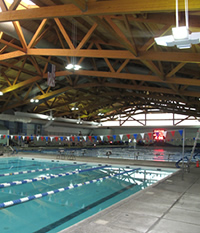 Throughout the last 25 years, the Aquatic Center has received several upgrades; some you can see and some you can feel. Our goal is to keep up the latest trends and best practices with regular cosmetic improvements and technological advancements to our systems. The Aquatic Center staff continuously works to provide a safe and fun swimming experience for our citizens as well as new and exciting programs and promoting swimming as a competitive sport.
More recently in 2020, the Aquatic Center underwent extensive renovations to include; a pool resurfacing project upgrading to an exposed aggregate plaster with tile racing lines, new LED lighting throughout the facility, and underwater lighting to both pools. The locker rooms and restrooms received a fresh coat of paint and updated plumbing in the shower areas. These improvements will definitely be a big draw to not only the local community, but will highlight the Chatham County Parks and Recreation Department across the southeast as having a first rate swimming facility.
We welcome close to 100,000 people annually into the Chatham County Aquatic Center. If you were not one of those people... stop by and check us out. We hope to see you swimming soon!