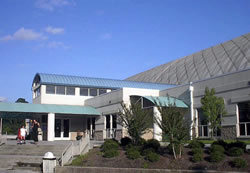 The Aquatic Center was opened in 1996 following the Summer Olympics held in Atlanta. The facility was built with SPLOST funding and was the first of its kind in Chatham County. The Aquatic Center has two pools, 25 yard recreation pool and a 50 meter lap swimming pool. The facility also has a swim shop, locker rooms with showers and a birthday party area. The recreation pool is a warm therapy pool and the year round temperature is 86 degrees. The lap swimming pool is a competitive pool and is kept at 78 degrees year round.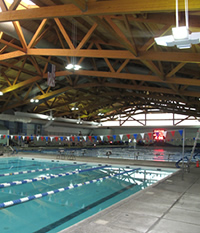 The Aquatic Center is open for lap swimming, recreation swimming, water aerobics, swim lessons and is host to numerous swim teams. Each year the Aquatic Center hosts several meets that draws teams from as far away as Virginia, Tennessee and many other Southern States.
The Facility was renovated in 2007 to showcase a beautiful new wood truss roof. Improvements were also made to the dehumidification system which improved the air temperature and reduced humidity on the pool deck.
The Chatham County Aquatic Center is part of Chatham County's Parks Recreation Department.